Week 6 focused on European cakes, so Mary Berry chose a Swedish cake for the technical challenge. It is a cake with sponge, pastry cream, and whipped cream in a dome that is then covered in marzipan (usually green in color). It got the nickname "princess cake" because three Swedish princess were said to be fond of the cake.
Most of the components are made from scratch, including the cake, jam, and the marzipan. I was a little worried about making the marzipan smooth on the outside.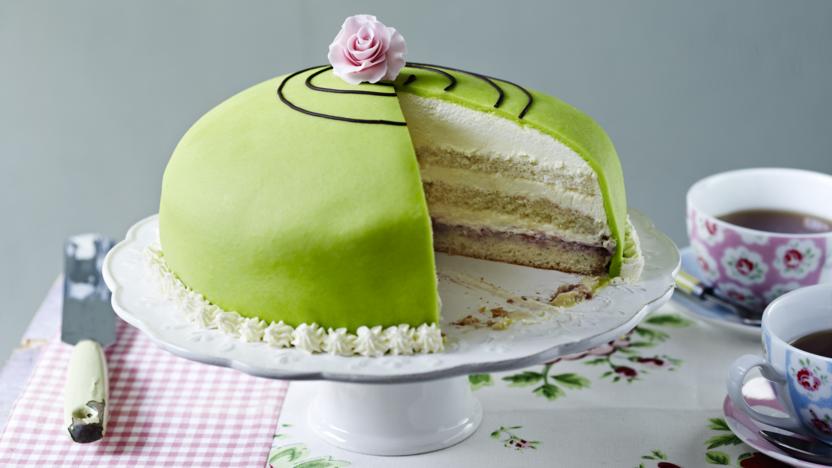 The Bake
The Custard
I had two worries. The eggs I got at the store had dark yolks, which would throw off the color. Second, my vanilla beans have gotten hard on the outside so I was afraid I'd miss pieces when I pulled them from the milk.
2. The Jam
There was no mention of straining out the seeds. I overboiled the jam for a moment and I didn't have "jam sugar". My jam was quite loose…
3. The Cake
After the cake got into the oven I took it out to cool. The top collapsed. Also how does anyone get three layers out of these tiny cakes?!
4. The Marzipan
Oh gosh… I had pretty slivered almonds but not enough so I ended up using regular almonds. I hated the taste of this and the color was all wrong.
5. Assembly & Decor
I think this is the first time I've ever realized I didn't have anything to present. Mistake after mistake after mistake. I can cope with a little ugly, but as I started the bottom layer, I realized my custard wasn't set. It didn't trap the jam and everything flooded out.
Final Thoughts
This was more like a Nailed It challenge than a GBBO challenge… The cake was a disaster. The marzipan was the wronng color and tasted like dirt. The cake fell apart and tasted funny. I was so proud of my rose until I saw Mary Berry's delicate thin fondant rose. The custard didn't set, but it tasted okay with the jam. We threw this in the trash and I stabbed the marzipan with a butter knife.
It's a good thing I wasn't making this for any princesses..